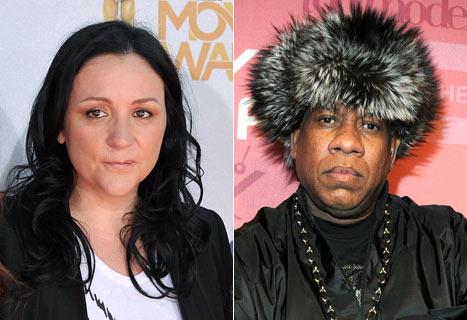 Kelly Cutrone replaces Andre Leon Talley on ANTM
This is part II of my interview with fashion PR expert, Kelly Cutrone. She dishes on her new role as a judge on America's Next Top Model, her personal style, and her new book.
S: You're joining the panel of ANTM. What's it been like shooting so far?
K: It's a lot easier to be a panel judge then to have your own show and be followed 24/7. It's great; I've become really good friends with Nigel [Barker]. He's really funny and we make each other laugh all day. Tyra's been awesome.
Every week, we have a new celebrity judge, so I'm meeting really cool celebrities. It's been a win-win because a lot of my clients are involved in the show. I've been able to keep an eye on People's Revolution (there is a LA location) and then go out to the studio and shoot for a little bit.
S: How would you describe your personal style?
K: I love black and everybody knows that—I've always gone black because I wake up in the morning and usually go straight through the night in the same outfit. It always works wherever you are, with the exception of like… the Fourth of July.
The big joke is that I actually tried to wear some color on ANTM. I was wearing black pants and a black jacket but I tried this really dark navy shirt because I was going to try to make an effort to clean up a little bit and I wore it and everybody on the show was like what are you doing?
S: So funny! So tell me about your new book, Normal Gets You Nowhere.
K: It's really about what are you going to do about yourself and living a life that means something, how to take your idiosyncrasies and unique gifts and use them for good. Shake things up, turn the tables, tell the truth, and, most importantly, be you.
A big thanks to Kelly!
More great interviews coming up!
with style,
S