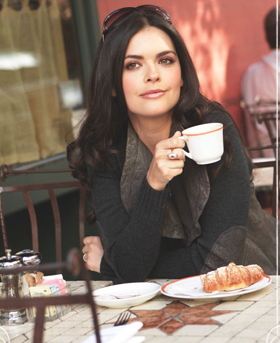 A great cook, a fabulous writer, and a year-round Hamptonite, Katie Lee is an all-American sweetheart. From hosting season 1 of Top Chef to writing cookbooks and a novel, Katie shines through everything she does. Not to mention, she looks fabulous in just about everything she wears! After meeting Katie at Authors Night in East Hampton this summer, and with so much to discuss, I've decided to make this a two-part interview. You'll be sure to have a hearty appetite!
S: To me, you're a combo of sporty, homey, and chic. How do you describe yourself?
K: You summed it up pretty well! I love entertaining at home with friends, and creating a relaxed environment. I'm a pretty laid back person.
S: How do you stay true to yourself with all of your business ventures?
K: My mom always taught me to stay true to myself and what I believe in. Whenever something doesn't feel right, I trust my instincts and veer in a different direction. I feel the same way in both my professional and personal lives.
S: Lets talk food!
K: I pretty much grew up in my grandma's kitchen, so my love of food started at an early age. I never imagined I could make it a career. I was a journalism major in college, and I wanted to combine my love of writing and my love of food. All I ever wanted was a column in a magazine about food, and I got that column; I write for Cosmopolitan every month.
S: Your cook book, The Comfort Table, has simple and delicious recipes. What inspired them?
K: If you put the words "comfort" and "table" together, it spells "comfortable". My grandma always said it's not just about the food you're serving, but how you make people feel in your home; my goal is to always make them feel comfortable. Many of the recipes in my cookbooks are inspired by my grandma. She's the best cook ever!
S: What are three of your favorite hidden treasures of the East End?
K: I'm a full-time Hamptons resident, so when all the crowds go home on Labor Day, I stay put and the East End becomes a quiet paradise, a perfect spot for writing. There are so many places here that I love, it's hard to narrow it down to three. I shop almost daily at The Green Thumb for fresh produce, I go to Round Swamp Farm for some of their prepared foods (especially the vegetarian lentil and rice salad), and Dave's Grill in Montauk for cioppino.
Stay tuned for Part II tomorrow where Katie reveals her personal style, her future plans, and her new page-turning novel, Groundswell.