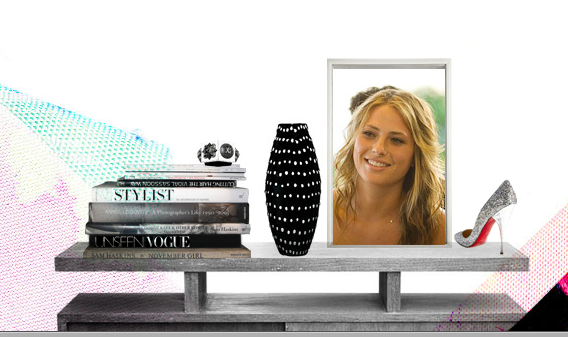 Designing for the woman who likes to travel, have fun, and express herself through her clothing, Rory Beca knows what a woman wants. You might know her best for her adorable blouses and dresses, or for designing knit scarves for the girls on Friends. Cool, and of course chic, I present you my interview with Rory Beca.
S: How do you determine which colors and prints to use in your designs that always look fresh and current?
R: I always start with an inspiration board. I meet with different artists, including my brother, to check out prints. A lot of the colors come from those prints and inspiration.
S: What kinds of art and music inspire your designs?
R: I love the Galerie Maeght in Paris and my brother's artwork always inspires me. Right now, I am listening to a lot of reggae which sort of goes along with my upcoming resort collection. Some other music consists of The XX-Islands, Slightly stupid- 2 am, and Angus and Julia Stone-paper airplane.
S: How did you transition from making knit scarves worn on the famous girls on Friends to soft collections?
R: The scarves were a hobby that I was doing because I loved knitting. I then wanted to expand into having my own collection, so I started doing one-of-a-kind pieces.
S: Your website is one of the most creative I've seen. How did you come up with the design?
R: At the time when I was creating the website, I was very into the look of realism. I gathered a bunch of my favorite images and looks and worked with an amazing web designer, Matthew Daniel Siskin at Designedmemory.
S: How does a designer break into the big league stores like you did?
R: I think if you really feel passionate about something, you should do one thing everyday to forward the business, which is what I did.
S: What brands do you buy for yourself other than your own?
R: I live by the beach, so yes I tend to be casual, but I do love to dress up. My favorite brands are J Brand, Loeffler Randall, Kite and Butterfly, Secai, Miu Miu, and Stella McCartney.
S: Your collaboration with Forever 21 has gained lots of publicity.
R: Yeah, they approached me and I love the store, so I did it.
S: Lets talk Fall 2011.
R: Mixing prints, easy to wear maxi dresses, long skirts, and a lot of sheer sexy fabrics are what's on trend.
S: Which key pieces should a woman have in her fall wardrobe from your collection?
R: I love the Dora tunic. It fits well and looks great on everyone.