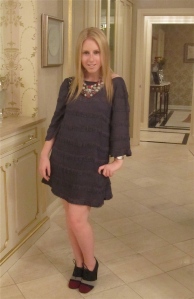 Fashion Week has been amazing so far, and I can't wait to update you all on my adventures. But before I do so, I want to first give a recap of Fashion's Night Out. Let me just say, the city never look so fabulous. It was great to see New Yorkers (and even tourists) dress up in head-to-toe chic attire. The city felt so alive that evening, everyone celebrating fashion. Not to mention, I ran into atleast 50 people I know…it was a bit crazy!
With hundreds of stores to party and shop at in one night, you simply cannot go to them all. It was also extremely humid out, and when running everywhere due to the limit of taxis and street crowds, it was important to wear something light but of course something that would stand out. I received complements on my outfit throughout the evening, so I think I pulled it off. I wore a plum Nasty Gal fringe dress, my new Tory Burch suede booties, a Roberta Freymann stone-embellished bib necklace, and a classic Chanel bag. Easy, breezy, beautiful…but not Cover Girl!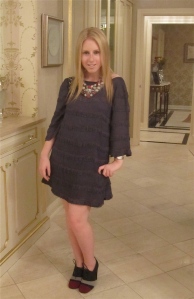 I made my rounds on the UES, and had some favorites, but then there were those where I was completely turned off. I went to Donna Karan's store and met Donna (who is stylish and super smart) and supermodel Marisa Berenson.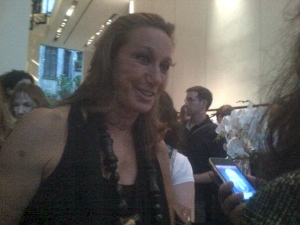 Next came Stuart Weitzman for the debut of Hayden Panettiere and Michelle Trachtenberg's shoes for Weitzman's Young Hollywood Collection. I especially loved Hayden. She rocked a forest green Fendi jumpsuit with sparkly green eyeliner highlighting her bold eyes and gorgeous blonde locks.
Then I went to Bergdorfs. Turn off. (although I did purchase my FNO blue and purple t-shirt there). They wouldn't let people go past the 2nd floor due to capacity. I get there are rules, but honestly, is attitude really necessary? Non. I then popped my head into a few other stores like Judith Ripka, Ann Taylor, Gisueppe Zanotti, Chanel, and Ralph Lauren. Not so much going on, but if there was air-conditioning and a cold refreshment, I was there!
As I was approaching home, I passed Dolce & Gabbana (as usual), but there were hundreds of girls screaming, crying, laughing, hyperventilating; every emotion imaginable. The biggest one? Bieber Fever. Yep Justin Bieber, tons of cops, and even some secret service looking men. I'm not the biggest fan but I did find it amusing. What was better, though, was seeing Ellie Goulding (for the second time) getting out of her Escalade to go in to D&G…oh what a night!
To give you a taste of what it was like downtown during FNO, Haley Sherif, a blogger for Eco-Chick.com, is guest blogging to give us the scoop!