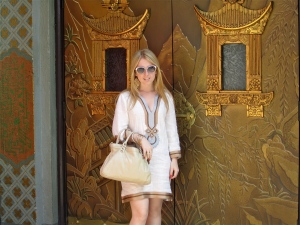 LA was in one word, amazing. I loved every minute of being there; the food, the hotels, the museums, the touristy moments, seeing friends, and of course the shopping. Yes, the Hamptons is great, but I have fallen completely head over heels for LA, and can't wait to get back there asap. I had just two days to do everything I wanted before heading to San Francisco, and I'm happy to say I did. (in photo above: Sydney in front of the Grauman's Chinese Theatre- Hollywood)
There was something about LA that was so cool, refreshing, relaxed, glamorous, and delicious. I just got home last night, and can't wait to tell you about restaurants, touristy moments, and stores/shopping experiences that made this trip so memorable.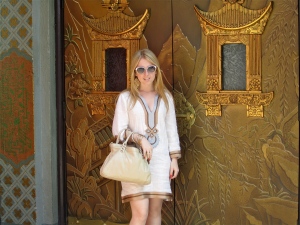 This first post is about touristy moments. I don't think a trip to somewhere you haven't been to or haven't been to in a long time is complete without those tourist experiences. During my trip, this took place in Hollywood. First came a tour of the Kodak Theater, where the Academy Awards is held. The tour was very interesting; from learning the process of celebs walking the red carpet, to learning the seating charts in the theater, and the V.I.P room which has special glass windows for you to just get a glimpse of the celebs (no stares!).

No pics were allowed, but in the lobby was Fergie's outfit from her Hey Mama! performance, and Katy Perry's outfit from her I Kissed A Girl performance.

Next came the Hollywood Walk of Fame. The number of stars was unbelievable, and I had my favorites: Elton John, Michael Jackson, Christina Aguilera, Britney Spears, Jennifer Aniston, and Sandra Bullock (just to name a few).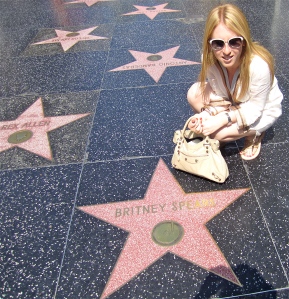 Of course there's nothing like seeing the Hollywood sign, even from car-view!