So, the end of the weekend has already come. This Sunday-goodbye is going to be even harder than most weekends because I won't be here next weekend. Thursday is the beginning of my West Coast weekend! I'm so excited for L.A and San Francisco, but on the other hand, I hate to miss a weekend in the Hamptons. Here's a recap of my weekend whereabouts.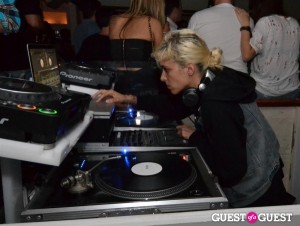 On Friday, I arrived in Southampton (the Jitney ride wasn't great, but not as bad as last weekend) early in the evening, allowing a quick stop to the supermarket for some fruit and other munchies for the weekend. I was invited to Blue & Cream's Mid-Summer Night Party at Georgica, featuring sounds by Samantha Ronson and DJROSSONE. This started sometime after 11:00, so I met my friend there for dinner first. The music was amazing, and the attendees were lively and fun as always.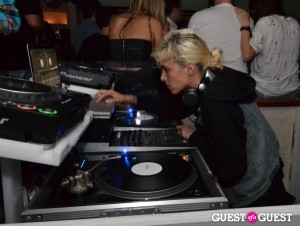 Even though I didn't get home until very late Friday night, I still got up on the earlier side on Saturday. Breakfast in town at the Golden Pear, walking around with a girl friend, and then off to Bridgehampton. I went to Bridgehampton for the ArtMrkt show which featured amazing works, some of which I fell completely in love with. I will show you all of my favorites tomorrow. Next came walking around in Bridgehampton town, browsing 25 Park, Yigal Azrouel, a vintage store, etc. A little while after, I went to a Ferrari Rally at an estate. I've never seen more Ferraris in my entire life! One after another.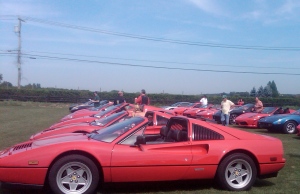 When finally making it back to Southampton, I quickly changed for dinner at Trata. I wanted to wear my cranberry Twelfth Street By Cynthia Vincent romper. I wore it a few weeks ago with bright blue Louboutins and a white purse. This time, I accessorized it differently. I wore nude Louboutins, and a green Tory Burch clutch.
Today was definitely the most relaxing of the weekend since I spent it at Coopers Beach with my light read, iPod, and frozen coffee drink. It was absolutely beautiful out; the sun not too hot, but shining the entire time. I got back a little over an hour ago, and took a quick swim in my pool which felt refreshing. I'm now sitting on my bed with my bags packed with clothes I need to bring back to NYC to take to Cali. I really don't want to leave!
For those of you who have the pleasure of being in the Hamptons this weekend, stop by my favorite East Hampton store, Blue & Cream, July 22, 23, or 24 (or all three! 11am-7pm) to make your own Havaianas. I miss the Hamptons already, but I will leave with style, and with love.