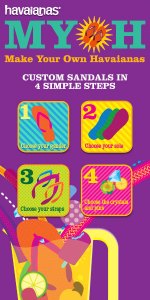 After a fun-filled weekend in the Hamptons, waking up early this morning was no easy task. However, at least I woke up to beautiful and sunny 80 degree weather, whereas last week felt like Fall. It feels great to be able to walk outside without my arms covered, cute shorts, and great sandals.
When I have lots of walking around to do in the city, or when I hit the beach in the Hamptons, I have an urge to wear flip-flops. Flip flops are my go to's for whenever I want to wear a sandal that is light, comfortable, and basic. No matter how simple an item in my closet may be, I always want it to be chic.
For the past couple of years, I've found myself purchasing Havaianas flip-flops most. Why? Because they're colorful, comfortable, and cool. I have a navy blue metallic pair, a brown pair, and a gold metallic pair, all of which have traveled the world me.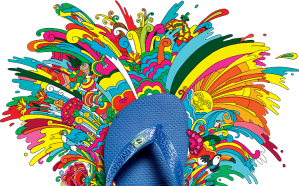 Havaianas lovers (or just flip-flop lovers), get ready to bring out your design creativity because this summer, you can customize your own pair of Havaianas sandals! In just four simple steps, you can create the ultimate summer flip-flop.
Step 1: choose your gender (boys, you aren't left out). Step 2: choose your sole (blues, greens, pink, white, black, grey, etc). Step 3: choose your strap (same colors as soles, plus the addition of some fun metallics). Step 4: choose from a trendy selection of crystals and pins (letters, flags, colored crystals, skulls, hearts, etc). Not only are these customized Havaianas fun, colorful, and stylish, but they're reasonably priced too. The sandals start at $25 without embellishments, so as you add crystals and pins, the price will raise.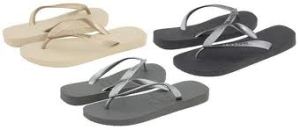 So have fun, design a trendy sandal, and fashion it all summer long!