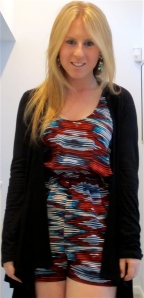 Nightlife in the Hamptons is something to look forward to each season. There are the amazing restaurants, fun clubs, and then those which have a combination of the two. If you're in Southampton, like me, you're mostly found at Nellos, where as if you're more towards East, you're mostly found at Georgica (I get around to both, though).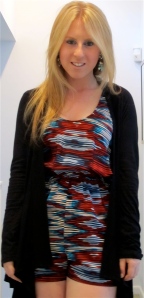 Last night, I went to Nellos for the opening of the restaurant/club of the season. The atmosphere is always so relaxing and elegant, sitting outside with the all-white tables and chairs, great music, charming flowers, and warm fire.
The air was pretty warm, but with a cool breeze, so I wanted to wear something that suited the temperature. A couple of weeks ago, I developed a love for the sales rack at Intermix in NYC. I'm not that into shopping the sale racks at Intermix because it usually means that the clothes don't fit or look right; however, I found some great pieces, and ended up wearing one last night.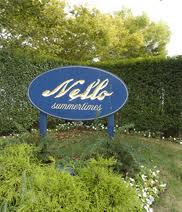 I fashioned a Twelfth Street By Cynthia Vincent Racker Back Romper that is bold, colorful, and fun. I love this romper because it's loose and playful, making it a piece that can be dressed up at night, and dressed down during the day. I wore the romper with a black Splendid cardigan, blue patent-leather pumps, and Badgley Mischka hanging earrings in a variety of shades of blue crystals. Apparently I made a good choice in makeup: when I was waiting in line for the restroom at Nellos, Dina Lohan and her makeup artist were complimenting my makeup.
I have to get ready soon to go to a few parties, yet all I want to do is stay at home in my Southampton sweatshirt and pop in Somethings Gotta Give on my TV. As I was driving home today from brunch in Easthampton, Maroon 5's Sunday Morning came on, a song from Somethings Gotta Give, which reminds me of a great Sunday in the Hamptons.