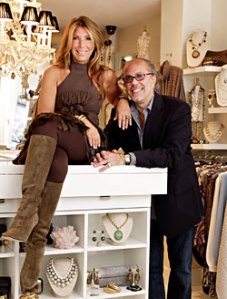 From The Hamptons, to NYC, to Palm Beach, Jennifer Miller's jewelry stores are the best to shop in. A sweet, fun, and trendy woman herself, I had the opportunity to interview Jennifer Miller for Style Solutions. (In photo: Jennifer Miller & husband/business partner, Mark Ehret)
S: How did you get into the jewelry business?
J: I grew up in a family where everyone was in the fashion industry. Jewelry has always been in my blood, but I resisted the business while I had another career. I was first in the cosmetic business, but I was a jewelry collector and lover my entire life. I had always spent my paycheck on jewels, but then decided to make my business jewelry. I started with a store within a store at Zoom in Southampton in 1991. I then opened my own stores in Southampton, NYC, Easthampton, and Palm Beach.
S: You have an amazing way of merchandising real with costume jewelry (even in the same case!) What's your strategy?
J: It's unfamiliar to clients because they can't tell what's real or not. We merchandise together to show that whether you want to spend $95 or $1000, it all looks great. My husband and I do all of the buying.
S: It appears that not just customers are shopping, but many stylists come to select jewelry for their clients.
J: Before the reality stars became these stars, they were either friends, customers, or acquaintances. Once they started their career, they found Jennifer Miller to be an easy one-stop shop. They all wear everything beautifully, and represent the Jennifer Miller brand: the perfect place to shop for everyone, and always yourself.
S: What's your most popular piece right now?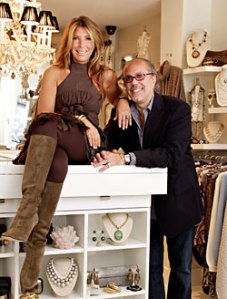 J: The Hampton Earring. It's $95 (great for those on a budget readers!), not too big, not too small, right amount of sparkle, and is great for the girl who wants one earring that will go with everything no matter where you go.
S: What are the trends for summer?

J: Right now, there are lots of leathers with sparkle: a combination of leather with flair.
S: You recently added great hostess gifts in your SH store. What inspired you?
J: I have a passion for beautiful things. Everything I like to give as hostess gifts I want in my store because my store is like my home. Clients come into my Hamptons stores looking for gifts to bring to parties, so instead of buying jewelry all of the time, they can now buy trays, candles, salad tossers, and more.
A big thanks to Jennifer, and be sure to check out her stores and website!