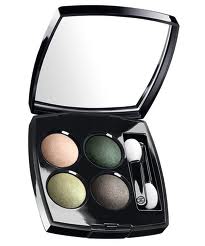 It's time to brighten up your eyes this weekend with a new quad of eyeshadows. The key to having those perfect summer eyes is for them to be colorful but not too overpowering. Unfortunately, even when I try my hardest, there is no way of traveling without my extra bag that entails my must-haves. My makeup bag is something that must transfer back and forth with me.
As I was going through my eyeshadows that I want to bring to the Hamptons this weekend, I noticed that the majority of my shades were in the bronze family: I was lacking color. Although I love bronze shades (frankly because I feel most comfortable wearing them), there's something about color that I feel can brighten one's face in a trendy and fun way.
To give my collection of shadows a new and colorful addition, I decided to invest in Chanel's newest summer eyeshadow quad: Lilium. Each shadow in the quad -shimmery light pink, light and soft green, taupe, and blue-toned green, is on the shimmery and sheer side. However, when applying with a wet brush, the shades will appear more intense. I like that I have the option of having a delicate or bold look depending on my mood and what I'm wearing.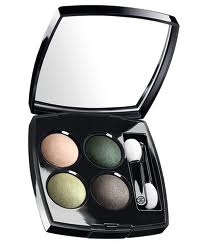 I'm finding myself using the light and soft green on my lid, the blue-toned green on my crease, and the shimmery light pink on my arch most. All in all, I love each shade in this Chanel quad, and Chanel makeup-lovers will not be disappointed.
Lilium is available on Chanel.com for $57. Although a bit pricey, this quad will last you all summer long.