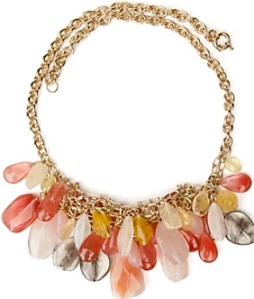 Having an eclectic mix of jewelry in your jewelry box is extremely beneficial, especially during the summer. Why, you may ask? Because bright, colorful, and statement-making pieces can bring that simple summer outfit -shorts and a t-shirt- to an entire different level of fabulousness. When it gets hot out, we find ourselves wanting to wear light and effortless clothing; however, we still want to have that glamorous and trendy look. Style Solution: a chunky necklace.
When I was in the Hamptons on Saturday, I stopped in one of my favorite stores: Intermix. There are many Intermix locations across the US, but I find myself most successful in the Southampton location due to the excellent salespeople, large space, and trendy selection of items.
While browsing the store, I came across a fabulous necklace that was pure eye candy. The necklace is by Lee Angel, and is chunky, bold, colorful, fun, and dramatic. The necklace is styled with overlapping layers of highly polished pink, coral, amber, and natural shade beads in irregular shapes and sizes hanging from a shiny gold chain.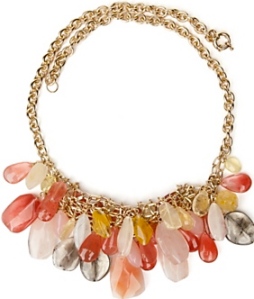 The necklace will look great with a variety of different outfits, but here's one way of wearing it. Wear this fashionable Rock Candy Necklace with coral shorts, a grey t-shirt, coral and/or yellow pumps, a yellow clutch, and coral sunglasses. To continue with this cool list of colors, paint your nails in Chanel's Mimosa, and give yourself a glossy coral lip. The Rock Candy Necklace is available on Intermix.com for $168.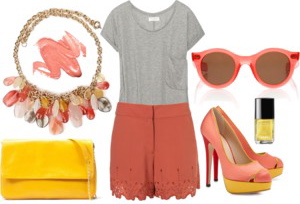 For those of you who are in NYC tomorrow, join Yelena Kats at The Carlyle for a trunk show to view and choose from her exclusive collection of sandals and jewelry from the magical island of Capri. 35 East 76th Street, Suite 2001 NYC.