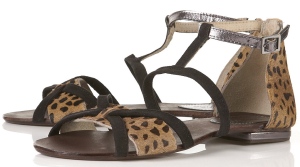 On this overcast Sunday morning, I decided to stay home and relax instead of going out for my typical Sunday brunch. I've been sitting in my comfortable and soft bed for the past few hours, reading my newest book that I picked up yesterday at Book Hampton, Candace Bushnell's Summer And The City, finding myself already addicted.
I went to the Hamptons (again) for the day yesterday to get our house ready one last time before the big Memorial Day Weekend. It wasn't as crowded in Southampton as it was last weekend, which made it somewhat pleasant since next weekend will be pact. When arriving, I first stopped at San Ambroeus for a cappuccino & croissant to munch on while indulging in Saturday's New York Post, which is a bit hard to do since the Saturday issue is my least favorite; however, I never like to miss a day of Page Six. I then ran some errands, browsed in a few stores, and picked up my favorite nonpareils from The Fudge Shop for the Jitney ride home.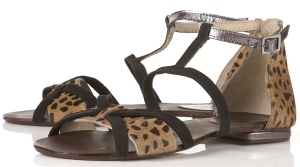 While I was walking around, I noticed a lot of women in flat gladiator-style sandals paired with cargo pants, shorts, skirts, you name it. Gladiator sandals are appropriate for this awkward time between Spring and Summer because they cover some parts of your feet-they won't be completely bare.
Topshop just came out with a fun and funky pair of 'Frey Leopard Print T-Bar Sandals'. I love these sandals because of the combination of materials: leopard print, and leather metallic. Leopard has become a classic print to wear all year round, where the silver metallic adds a fun and glamorous look to the mostly simple sandal.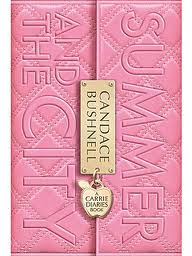 Pair these adorable t-strap gladiator-looking sandals with a grey loose-knit sweater, black jean shorts (if needed, wear sheer black tights underneath), a silver tote, a tope and silver snake cocktail ring, tortoise sunglasses, and spike silver and crystal earrings.
The sandals are available on Topshop.com for $80. Have a fun Sunday! ~S