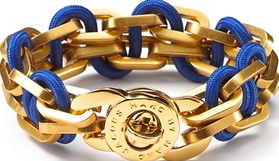 Sunday is a day of ease and relaxation. The thought of getting dressed up isn't as appealing as being cozy warm in my long-lasting J.Crew cashmere lounge pants, so I like to wear extra comfortable clothing that still looks effortlessly chic for an "out and about" day in the city. As I have said before, I love accessories: think of accessories as the last step to making the perfect outfit just like when adding a cherry -the final topping- to a perfectly delicious ice cream sunday. A silly analogy, but it kind of works.
I'm always dressed up regardless of the day of the week, but I still like to tone it down a bit on a Sunday. For example, instead of wearing my chunky cocktail ring I would wear smaller stacked rings, or instead of wearing a cuff bracelet, I would wear a thin bangle: something in that nature. If you don't want to put on your most glamorous jewelry on a Sunday, find some costume pieces that look cool and chic but are a bit more toned down.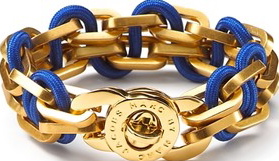 Marc by Marc Jacobs just came out with a fun and ultramodern "Fluro Turnlock Bracelet" that is perfect for a casual yet chic Sunday. The bracelet is all about the gold chunky chain being intertwined with colorful blue rope, something that I haven't seen before. I like pieces that look unusual and unique, and this bracelet definitely has those two qualities. The gold chain is what makes the bracelet bold and chic, and the blue rope is what gives the bracelet a pop of color yet cool and toned down look.
The bracelet is complete with a turnlock closure with Marc by Marc Jacobs engraved on it which is the finishing touch to a Marc by Marc Jacobs accessory.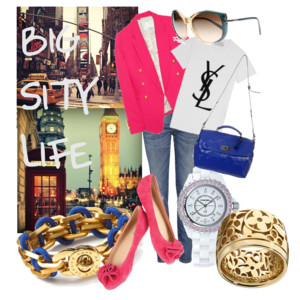 If you don't like the blue rope, the bracelet also comes in gold with pink. The pink is more girly and still just as great, so it all comes down to color preference. Put on a pair of jeans, a cool t-shirt with a blazer over it, a bright cross-body with a fashionable pair of shoes, this Marc by Marc Jacobs bracelet, and you'll be set.

The "Fluro Turnlock Bracelet" is available on Bloomingdales.com for $98.