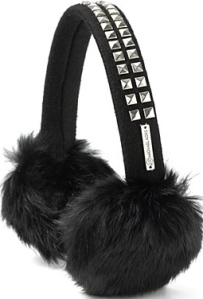 The fun of being snowed in on a weekday: watching my morning talk shows like Live With Regis and Kelly and The View, reading the book I'm almost finished with –Priceless by Nicole Richie (so good)- on my kindle which is kept safe in a custom Style Solutions skin protector, taking a walk through the beautiful Central Park, and just having the ability to be stress-free. I'm not one to stay at home all day, so I'll be heading to my favorite French coffee bar on Madison Avenue called Sant Ambroeus for a cappuccino with my mom this afternoon. It might not be snowing anymore, but that doesn't make it any warmer outside, and the need for earmuffs will be greater than the need for snow boots considering there isn't much snow left on the ground.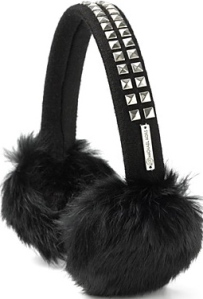 I have two pairs of earmuffs that I wear if I'm not in the mood to wear a hat: a multi-colored Burberry stripped pair, and a solid brown fur pair. Black earmuffs are my favorite, but because of my light hair coloring, a light brown or blonde colored earmuff looks better on me. However, I found a chic and edgy black earmuff from MICHAEL Michael Kors called the "Pyramid Stud Rabbit Fur Earmuff" that might just make me change my mind of not wearing a black pair. The "Pyramid Stud Earmuff" is perfect for the girl who wants an edgy yet classic look. The classic part about the earmuff is the color, black, and the edgy part about them are the embellished silver studs on the band. You'll definitely keep warm in the earmuffs since your ears will be covered in rabbit fur, and they will also look fashionable at the same time. Originally sold for $48, they are now on sale at Bloomingdales for $33.60.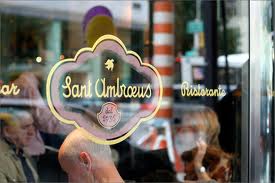 If you want a more dramatic earmuff, the "Surrell Fox Earmuffs with Patent Leather Band" is the way to go. These earmuffs are stylish, warm, and over the top with the oversized fox fur. When it comes to jewelry, bigger isn't always better, but with earmuffs it is because bigger means more coverage. You can obviously wear these during the day and night, but I actually see them as more of a night earmuff because they have a dressy and glamorous look; however, they'll work for both. The earmuffs will look elegant with a fur or feux-fur jacket, and even add on to an edgier look when wearing a leather jacket. The Surrel Fox Earmuffs are available at Bloomingdales for $85.
No matter what earmuff you choose to wear on this snowy, or not so snowy day, keep warm and relaxed because tomorrow is back to reality.