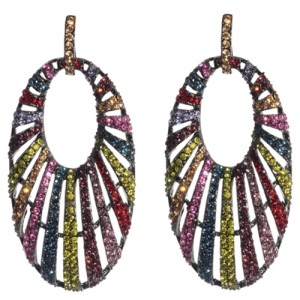 I love to wear glitzy and funky jewelry during the holidays. NYC – especially at this time of year – isn't like anywhere else: the city never sleeps. All of the stores -including big names like Louis Vuitton, Tiffanys, and Gucci -participate in the holiday festivities by making their stores bright and colorful. I too like to look bright and colorful during this time of year, and I do that by wearing a statement earring.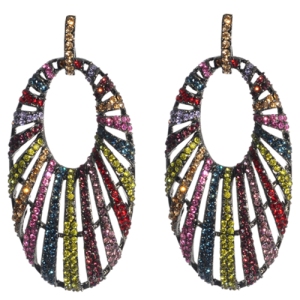 Buy a girl a pair of earrings for the holidays, and she will be happy. It might be easy to just wear diamond-looking studs every day, – I have to admit, I hate changing my earrings – but switching it up with a statement hanging earring will looking great and bring some variety to your look.
When I say a hanging earring, I don't mean a typical one colored straight piece. I mean a colorful crystal circular shaped show-stopper. Amrita Singh just came out with a fabulous pair of earrings called 'Adelaide Earrings' which are fun, glamorous, and chic. The earrings definitely make a statement, so don't wear any other jewelry when when wearing them: you want the earrings to be the center of attention.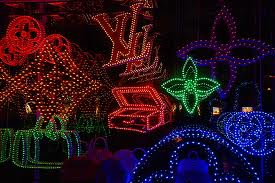 Dress these earrings up with a cute cocktail dress or dress them down with a pair of blue jeans and a simple sweater. The earrings were originally $120, but are now on sale for $49 – a terrific deal. Check out these multicolored earrings on banglebangle.com. These earrings might be big in size, but they definitely aren't in price.