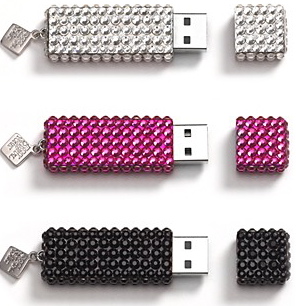 We live in a modern day world full of technology that is truly unbelievable. We have the Kindle to read books, DVD players to watch movies, iPhones and Blackberrys to talk to people, the internet- a world in itself- which we use on our high-tech computers, and plenty more. My Macbook Pro and Blackberry have become the two pieces of technology that I simply cannot live with out. One of the most important things that I do on my computer is write articles. When I need to transfer information from one computer to another, the most handy thing that you could find in my purse is a USB Stick.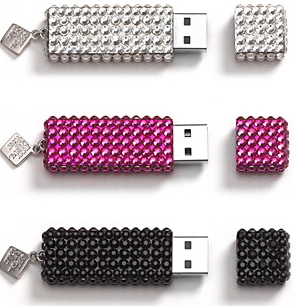 All of you students and workers know the importance of a USB stick. At some point in our lives, we depend on it. If we're going to be using this piece of technology at multiple occasions, why not upload our info in a stylish way? Here's the perfect holiday gift for the computer user and fashion lover: a Jimmy Crystal New York Swarovski 2 GB USB stick.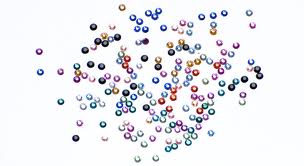 This fashion USB stick covered in glamours Swarovski crystals (so cute) comes in three colors: black, clear, and fuchsia. If you don't know the person you are giving this gift to's favorite color, I would purchase the black one because you simply can't go wrong. However, my favorite of the bunch is the clear stick because it matches perfectly with my Macbook Pro. The fuchsia USB is perfect for the girly girl who just can't get enough of pink: take Paris Hilton.
To add a finishing touch, the memory stick is accented with a logo charm in silver. Perfect for the tech user, fashion lover, and of course crystal lover, this is a perfect gift to purchase. The memory stick is $48 and is available on Bloomingdales.com