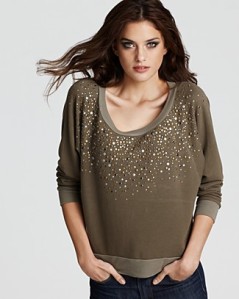 The temperatures are dropping as the holidays are getting closer, so it's tempting to put on a comfy sweatshirt to feel warm. Sweatshirts aren't particularly the most attractive piece of clothing, – with the exception of Free City sweatshirts (as an example) – so every now and then designers come out with sweater-like sweatshirts to give a more high end look.
Ella Moss just came out with a great embellished sweatshirt that looks like a sweater but will still let you be warm and cozy. The perfect gifts can be the ones that you spend more time thinking about, and a piece of clothing gives that impression. I love the color of the sweatshirt -oatmeal- because it's warm toned and will look great with jeans, leggings, you name it. The embellishing on the sweatshirt gives it some edge, yet the neckline takes it down with its slouchy and effortlessly chic look.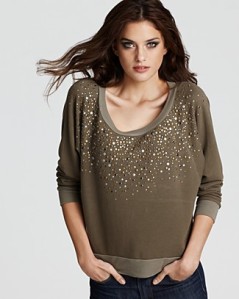 One wouldn't necessarily -at least I wouldn't – wear a sweatshirt out at night right? This sweater/sweatshirt is different because it does have a little dressier look and you can glam it up with some great accessories and pumps. I wouldn't wear it to a fancy dinner to say New York hotspot Cipriani, but I would wear it to a more casual dinner on the weekend.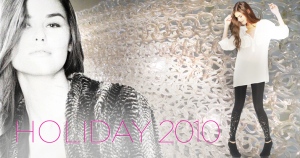 The sweater is $132, also comes in Sage (white) if oatmeal is not the color of your preference, and is available on Bloomingdales.com. Get comfy and warm in this sweatshirt and snuggle up by a fireplace: fashionably.