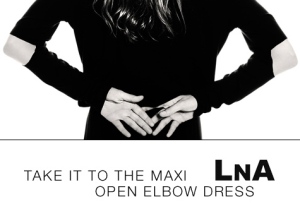 Want a cool, sexy, long black dress with open elbows, giving that hint of edge? If you do, here's where to get it; LnA. LnA is a brand that defines comfort, ease, and chic: lots of stretch fabrics in black, comfy and stylish sweats, and basic tees that are perfect for a casual Sunday.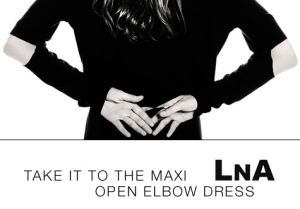 Every girl should have that little black dress that is perfect to go to when you don't have anything else to wear or just wanting to keep it simple. This Fall, long black dresses are in, and LnA created it's own version but with open elbows- I like the elbows because it's unexpected; fashion doesn't have to be so predictable.
Rachel Zoe was seen wearing this LnA dress belted (one way of wearing it) which looks great because it gives this basic frock a hint of glamour. Zoe looked "evening chic".
The dress is available on the Singer22 website for $148 and also comes in Heather Grey (I prefer the black).
Pair up this dress with some hot pumps and a glamorous clutch, and you'll be set for an evening of Fall fun.