When I think of wearing hats, I think of bad hair days. How would you like to have a hat that allows your hair to still be as perfect as it was when you first blowed it out? That's the beauty of a beret.
Perfect for those Fall days and of course during Winter, this Kika beret is the perfect solution for keeping warm, looking chic, and having a good hair day. Wear it as is in the photo – hair down, slightly showing your hairline, and pushing it back so it's hanging.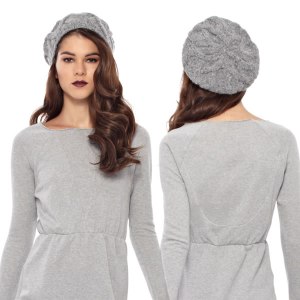 This grey beret is sold at Wink NYC stores and the Wink NYC website for $58. It'll look great with those warm sweaters and skinny jeans. If I were to name one person to follow on this beret trend, I would say Nicky Hilton. She looks great, doesn't she? That's how a beret incorporated outfit is done.