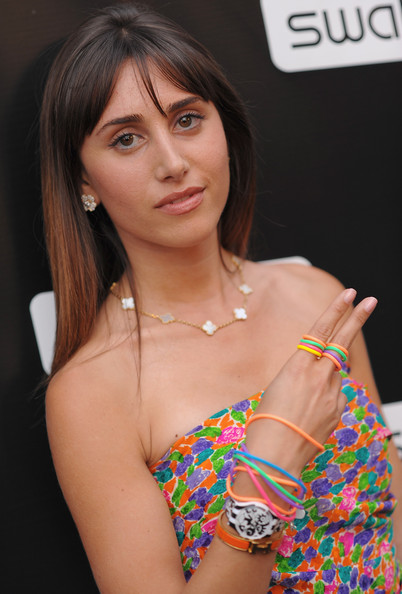 Native New Yorker, actress, writer, and graduate of Columbia University, Rachel Heller is a femme of many talents. Most recently, she starred on mega-stylist June Ambrose's new reality TV show, Styled by June, adoring fans as June's newbie assistant. From working alongside Aubrey O'Day and Mischa Barton to her summer plans, Rachel tells her story to Style Solutions.

S: You're listed on Styled by June as June's new assistant. How was being the newbie?
R: It posed a lot of challenges for me. There was never a dull day; we were constantly given new tasks and given high expectations to style the celebrities on the show. We would style celebrities that were out of the spotlight for a few years and were coming back. We wanted to make them feel confident, have a sense of self and exude a new page in their career.
S: My favorite celebrities that you worked with are Aubrey O'Day and Mischa Barton. Tell me about your time with them.
R: Mischa was very professional. It was impressive to watch how she handled press interviews at her launch party for her handbag line; I really liked working with her. Aubrey was bubbly fun, and up for anything. She has this playboy persona, but she's smart and knows where she's going with her career. We transformed her hair color to red and she ended up keeping it!
S: A lot of people feel misrepresented on reality TV. Did you ever feel that way?
R: It's kind of scary because it's not like acting where you're given lines, but you're somewhat fed the situation. It's all about getting the story across.
S: How has your personal style transformed since working with June?
R: I've always loved styling and learned even more about it while working with June. I now take styling more as an art than just getting a Herve Leger dress that I know looks good on my body. I want to stand out more now and have my own identity as opposed to following what looks good. I also like to combine bold jewelry into my wardrobe.
S: What did you learn about June?
R: She's very good at working with clients who are running away from fashion and their identity. Being a celebrity, you're always in the spotlight, so it's scary for them to make that change on the red carpet with a new look and this idea of a "new me".
S: What are you looking forward to this summer?
R: I'm looking forward to hosting a party out in the Hamptons and changing from the girl that was a newbie to the girl who has embraced fashion and is being the young woman who's a lifestyle guru, which is an open door for lots of opportunities.
S: What's up and coming for you?
R: More TV and film is in the future, and way down the line, writing books!
(p.c zimbio)