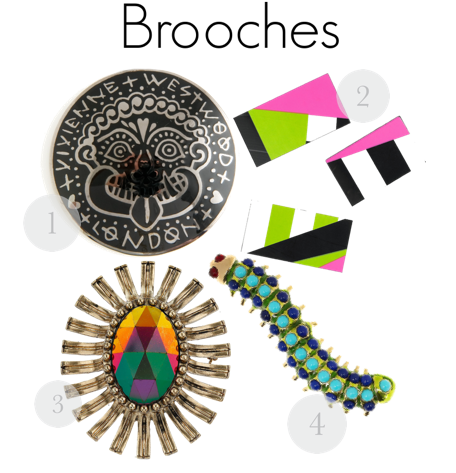 1. Vivienne Westwood ($63), 2. Marni ($175), 3. Dorothy Perkins ($8), 4. Kenneth Jay Lane ($105)
It is absolutely freezing outside! It's crazy how just yesterday I was in bright and light clothes, open-toe shoes and a fedora, where now I am back to my wintery attire, which is needed now more than ever. Heavy winter coats, thick scarves, cashmere gloves, oversized sunglasses to block the wind, and warm, toasty boots. That's January in New York City for you.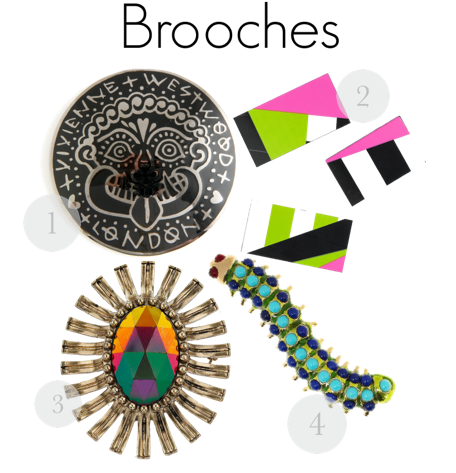 1. Bobbi Brown Lip Gloss ($23), Bobbi Brown lipstick ($23)
With a new year comes new trends, and boy are there many. From haute hues, wow wedges, stripe daytime frocks and bright bags to higher than imaginable shoes, the list goes on, and on.
Two of my favorite trends that you can start following now are brooches and bright neon lips.
Brooches. Seen on the runway all of last season, they are back for full-on fashioning this year. Some cheap and others expensive, they are easy to find and are the perfect accessory for adding some glamour, fun, and embellishment to any dress. You can even add them to simple totes for a bit of pizzaz. Above are my favorite brooches, which all have different looks: edgy with Westwood, modern abstract with Marni, glamorous with Perkins, and charming with Lane.
Neon Lips. You can't go wrong, especially with Bobbi Brown's fabulous selection. The combination of a nude and rather natural face with a bold pop of bright lip color will give you that electrifying look. The pink? Classic. The orange? Super chic. And the purple? So for me. The colors are definitely for spring, but don't shy away from trying them now to give your all-black looks some color. And, they are perfect for resort.
Time for a warm cup of tea, some tasty munchies, and an oversized sweatshirt for watching The Bachelor.
What are you doing to keep warm?
with style,
S