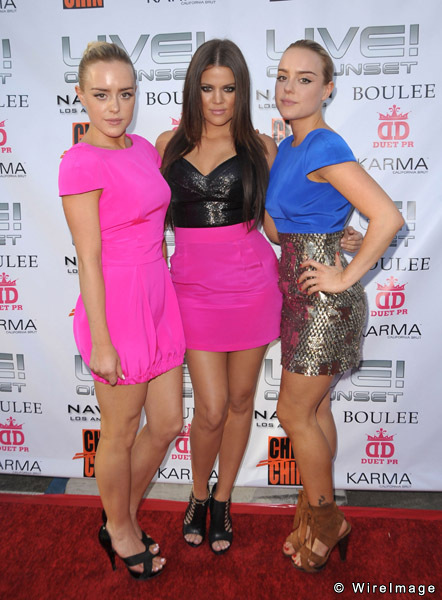 Kym McClay, Khloe Kardashian, and Alexis McClay
This is Part II of my interview with NAVEN designers, Kym and Alexis. Read on to see which celebs fashion NAVEN duds, what we'll see from NAVEN this season, and more!
S: Does the way you both dress influence the vibe of your designs?
K&A: One of the advantages of being a girl and owning a hot clothing line is being able to wear the duds at all time. To be honest NAVEN is basically all we wear. Our designs influence the way we dress and not vice-versa. We love color, color blocking, cut outs, studs, faux leathers and faux furs. We love the contrast that's created from an edgy take on classic silhouettes.
S: Why are celebrities so geared towards your line and who was the first to wear your designs?
K&A: Whether in Hollywood or strolling through city streets, every girl likes to be noticed and likes to feel sexy when they step out of the house; looking like they belong on the best dressed list is the appeal for young Hollywood. NAVEN is made for the red carpet through its fits and use of color. Some of the first celebs to rock NAVEN duds were The Kardashians, Lauren Conrad and Kristin Cavallari. Over the years, we have dressed celebs like Kendra Wilkenson, Paula Abdul, Paris Hilton, LaLa Anthony, and Amber Lancaster.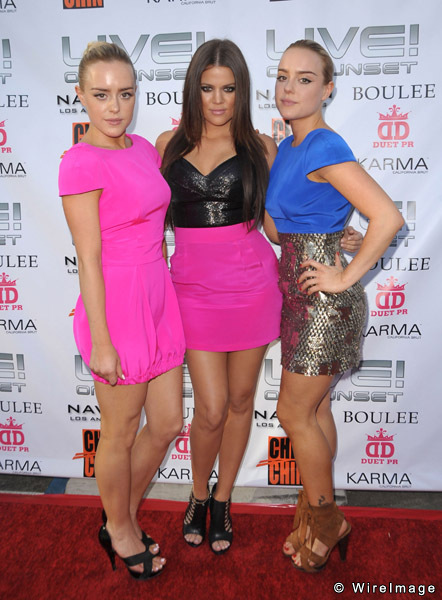 celebs in NAVEN
S: What are we going to see from NAVEN this fall and winter?
K&A: Expect to freak out over faux furs, and sparkle in sequins.
S: What's next for NAVEN? Shoes? Handbags?
K&A: NAVEN is currently expanding our womens line, and adding gowns. Look out for long flowing gowns on the red carpet this awards season.
S: Where can my readers buy your line?
K&A: Shopnaven.com is the best place to get the best prices and promos for NAVEN clothes.