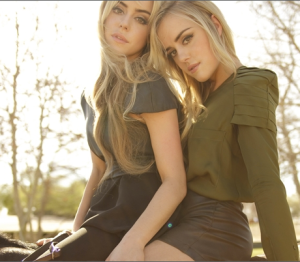 Kym & Alexis McClay
Twin sisters Kym and Alexis McClay know how to work it in the fashion biz. They are keen designers and faces of their fashion line, NAVEN, which I've been obsessed with since shopping the line about 4 years ago. Blonde, gorgeous, smart (Pepperdine University and FIDM graduates), and talented, these girls are the dynamic duo. This is Part I of my interview with the designers. Enjoy!
S: How did you both get into fashion?
K&A: Every career starts somewhere; ours started sitting at our desks at 14 years old in West Van High in Vancouver, Canada, sketching designs for the school fashion show. At that point, we never dreamt that would lead to owning NAVEN. Our path was carved out as followed. Step one: huge success from the school fashion show ignited the desire to pursue fashion. Step two: Kym completed her degree in Fashion Design at FIDM and Alexis's Business/Marketing degree at Pepperdine University. Step three: Invaluable experience working for large companies. Step four: The birth of NAVEN. Step Five: Taking over the world.
S: What is NAVEN, and what's the story behind the name?
K&A: We are Irish Canadian and have dual citizenships. We have a huge Irish family on my father's side who comes from Navan, Ireland. We wanted to stay true to our roots, which have influenced our lives. Therefore, we were inspired to use the city Navan in our business name NAVEN.
S: Who are you designing for?
K&A: Being California girls, we always try to incorporate off the runway looks into a wearable outfit. The fashionista we design for is fashion forward, confident, and sexy. She loves to be daring with sexy fits, and play with bold colors in her wardrobe. Our inspirations for our designs come from everyday life, and we take those tangible inspirations and create our "Dream Closet" each season to the next.
new NAVEN arrivals
S: What's it like working together as twins? Any rivalries?
K&A: We're best friends, so being able to brainstorm on the same wavelength and come up with creative concepts each season for our designs together is a blast. Though we are twins, parts of our personalities are polar opposites. Kym is the creative genius, and Alexis is the business side. Being a twin can be challenging since we spend every walking second together, but at the end of the day, we always work as a team.
S: Have the Olsen twins influenced you in any way?
K&A: We have such great respect for the Olsen twins and the empire they have created at such a young age. We definitely use their success as motivation, but at the end of the day, our visions are quite different. Their line, The Row, caters to an elite part of society in an extremely high end market comparable to couture pricing. Though we use fine fabrics, we keep our price points at the lower end of our market because when it comes down to it, we want all girls to be able to rock our designs; not just those with pockets of money honey.
Stay tuned for Part II of my interview with Kym and Alexis tomorrow.