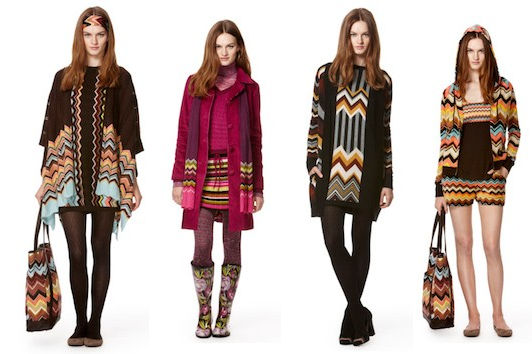 Ever since I was little, I've had a major obsession with Missoni. My grandmother was one of those women who always had to have the latest Pucci or Missoni print, so I've been left many that are although years old, look perfectly brand new. Missoni is one of those brands that I can simply say is so me because everything is truly colorful (and I love color). If only Missoni was half less expensive, I would be shopping the brand 24/7.
Tomorrow is my chance -the day I've been waiting for-, and yours as well. Missoni lovers, set your alarms extra early for tomorrow morning, and don't even dare to press snooze, because Missoni For Target will be available. Now's your chance to shop the legendary brand at a price that you can afford.
Every time I browse the online lookbook, I want everything more and more: the bike, the clothes, the shoes, the pillows, the dishes, the accessories, the everything: 400 items to be exact. Everything is going to go quickly, so be sure to buy enough of what you love without hesitation because this is a major fashion moment.