On May 2, 2011, famous and respected celebrities, designers, models, and fashion-gurus attended the most prominent evening of fashion of the year: the Met Gala. The Met Gala is equivalent (in the sense of importance) to the Oscars and the Grammys. The theme of this year's gala is 'Alexander McQueen: Savage Beauty', honoring the death of world renown designer, Alexander McQueen.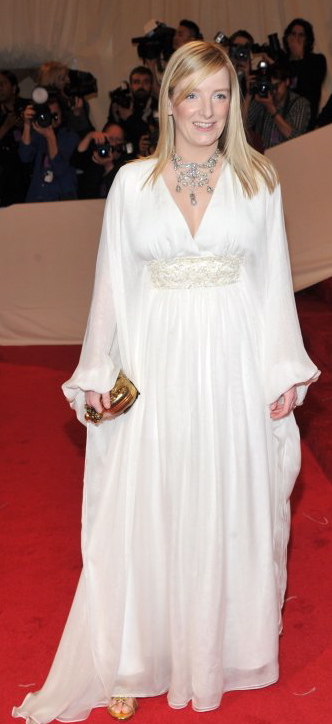 The list of attendees is quite amazing, some of who included Sarah Burton (Creative Director of Alexander McQueen, and royal wedding dress designer, in photo), Sarah Jessica Parker, Beyonce, Rihanna, Christian Louboutin, Blake Lively, Leighton Meester, Lea Michele, Karl Lagerfeld, Anna Wintour, Nicole Richie, the Olsen twins, and many more.
The most exciting part of the Met Gala is seeing what the A-List attendees decide to wear. Like any red carpet event, even ones to such high importance such as the Met Gala, there is always a 'Best Dressed List' and a 'Worst Dressed List'.
I have many favorite looks of the evening, but there are three that are most certainly at the top of my list: Blake Lively, Brooklyn Decker, and Ginnifer Goodwin. Lively glowed in a Chanel half sari and half lace gown. The combination of fabrics fitted Lively's body perfectly, and her hair was styled to perfection. Decker looked bright and hot in Michael Kors, pulling off the neon trend oh-so-well. The dress showed off the swimsuit model's sexy legs, and her nude sandals finished off the sleek and chic look in a simple way. Goodwin went green for the Met Gala, and did so ever so well, in Topshop Unique. I love that Goodwin didn't wear a designer because it shows that you don't need to spend thousands of dollars to look fabulous. The green silk twist front gown added edge to Goodwin's edgy hair, and she stunned in a beautiful necklace with turquoise detailing.
My 'Worst Dressed List' includes Beyonce, Rihanna, Jennifer Lopez, Iman, and Jennifer Hudson. Each of the ladies looks were a little too much, and not so glamorous. Over-the-top is not always the best. In the 'Worst Dress List' ladies cases, going understated like Lea Michele (whose look I am not so much of a fan of) might have been the better option.
Overall, the photos from the Met Gala portrayed the elegance, glamour, and fashion of the evening. I hope to one day attend this legendary evening of fashion.
(Photos from Met Gala posts: Huffington Post)