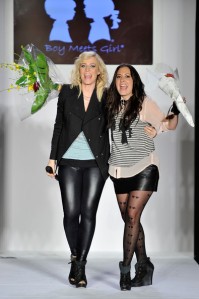 Taking a hipper approach during Fashion Week, the Boy Meets Girl fashion show was held last night in a cool building downtown. The show had amazing sponsors who provided stations to experience new products. Sponsors included Style 360, BMW, Polaroid Sunglasses, Seychelles, Make Up For Ever, Trident Vitality, plus more. Each station was fun and entertaining while waiting for the show to begin: The Real Housewives of New York City Star, Ramona Singer, and The Real Housewives of New Jersey Star, Danielle Staub, seemed to be enjoying the Trident Vitality station.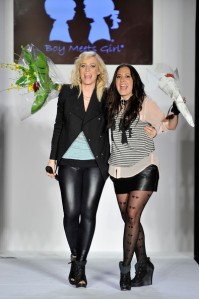 When everyone sat down for the show, there was a musical guest before the models came out and strut the ever-so-cool clothes. It was Natasha Bedingfield! Natasha, who fashioned leather-looking leggings (like me) with a mint-green tank, a black military-esq jacket, and high wedges, is an amazing singer and performer, and I am so fortunate to have spent some time with her throughout the evening (more details on a later post). Natasha was the perfect opening for the show, and she got everyone ready to have an evening of fun.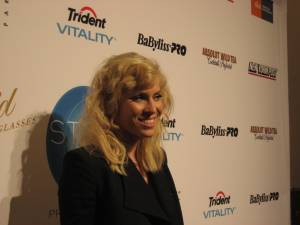 Who is just as cool as the Boy Meets Girl collection is the Designer, Founder, and Creative Director, Stacy Igel, who looked so chic in black leather shorts, a boy meets girl shirt with the signature logo, tights with the logo on it (that is what to me made her outfit) and high-wedged booties. Stacy's clothes demonstrate easy, chic, and fun clothing. Perfect for a casual day on the weekend, you will find yourself feeling comfortable, casual, yet chic in her clothes. I have so many favorites, but the pieces that I love most are the shorts, tanks, and oversized sweaters which are all perfect for a Fall day.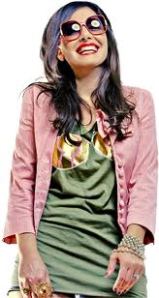 The models were styled to perfection: hair wavy and relaxed and a pale pink lip made the ultimate "downtown-relaxed" type girl. I liked how the models weren't styled to be over the topped, but to represent the every-day girl who would be wearing these clothes. I had an amazing time at the show, and check out two more posts regarding the fashion show: me getting ready and my experience with the incredible celebrities, the after party, and my favorite looks from the Boy Meets Girl Collection. This was my favorite fashion show of the week.
Heading out to the Bebe show in a bit: looking forward to ending Fashion Week in a big way!