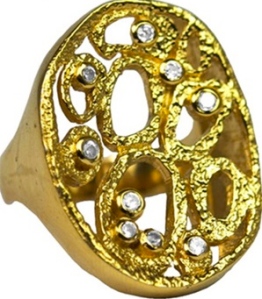 Are you someone that loves to wear pieces worn by celebrities? Miley Cyrus and Ashley Greene are two of the most popular young stars. Miley is extremely popular from her songs, Hannah Montana, and the Last Song while Ashley has made it big from Twilight. We see them all over magazines like People and US Weekly and are usually spotted in great clothing and accessories.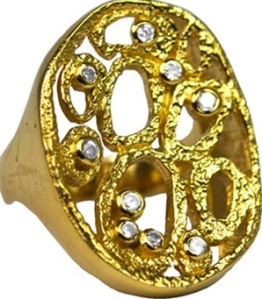 Melinda Maria is a jewelry designer who is very popular with Hollywood stars – not only Miley and Ashley, but Selena Gomez, Jennifer Lopez, Audrina Patridge, and more. Now's your chance to wear a piece that Miley and Ashley wear themselves.
The Amy Magic ring is a cool and chunky statement piece. It is a gold misshapen oval in a melted texture. The ring looks edgy and cool but has a bit of glamour with its white diamond stones which I love. The ring is perfect for those simple outfits that needs some pizzaz. In the photos, Miley and Ashley are wearing simple white tops and dresses and use the ring as a statement.
The ring is reasonably priced: $62. Check it out on BoutiqueToYou.com